"Beyond the Brown & Gold" – Advancement partners with WGLS-FM to highlight alumni stories
"Beyond the Brown & Gold" – Advancement partners with WGLS-FM to highlight alumni stories
"Beyond the Brown & Gold" – Advancement partners with WGLS-FM to highlight alumni stories
Rowan Today, February 13, 2023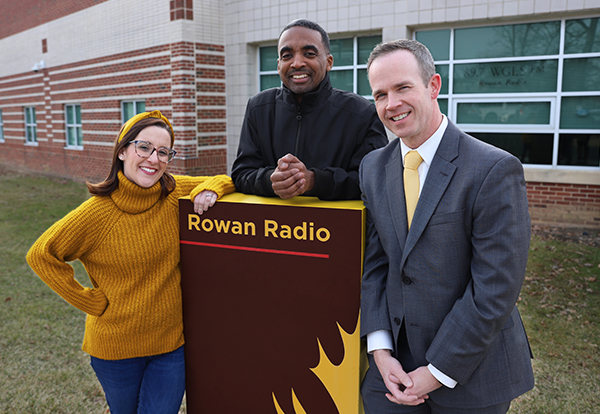 Kanady, Jones and Lightfoot outside WGLS studio
Dena Blizzard is One Funny Mother.
The 1994 Rowan University graduate, then Dena Querubin, is a long-time stand-up comedian, a former Miss America contestant, and the proud mom of a Rowan student, who not only truly is "One Funny Mother" but performed an Off-Broadway, one-woman play of that name based on her stand-up routine.
Blizzard appeared on the new podcast, "Beyond the Brown & Gold," a twice monthly program on 89.7 WGLS-FM, in December. Hosted by University Advancement's Jessica Kanady '08, M'15 and Rob Lightfoot '00, M'01, Blizzard reminisced about her time at Rowan (the biological sciences major went on to earn a master's degree in gerontology), her career in comedy and her life since college.
"People say, how do you become a comedian? I'm like 'get a biology degree, go to Miss America, get a gerontology degree,'" she said on the Dec. 19 episode.
Kanady and Lightfoot, themselves Rowan Radio alumni, host the program, while WGLS Station Manager Derek Jones '01, M'03, oversees on-air and podcast production and editing. Episodes are recorded live, then become available as podcasts from all of the major streaming platforms including Spotify, Apple Music, iHeart Radio, Podbean and Google Podcast.
Since "Beyond the Brown & Gold" debuted in October, Kanady and Lightfoot have interviewed a wide range of alumni including television writer Karen Maser '79, Cumberland County Prosecutor Jennifer Webb-McRae '91, and Jeff Hickman '95, manager of Disney College & International Recruitment in Florida.
Both former Radio, Television & Film majors, Kanady and Lightfoot said that having had live radio experience as undergraduates helps them to be nimble hosts no matter who the guest is.
"The time I spent on the air at WGLS, as a student and now as co-host of the podcast, has been great for my career generally," said Kanady, Rowan's senior assistant director of Alumni Engagement. "In my role I speak in front of crowds and microphones often, and I'm comfortable."
Lightfoot, Rowan's associate director of Development and manager of Planned Giving, co-hosted a drivetime morning show three times a week as an undergraduate and said, though that format was music-based, he learned to entertain between tracks.
"This longer format is very different but you're performing in both elements," he said.
Episodes of "Beyond the Brown & Gold" typically run 30-35 minutes, air the second and fourth Saturday of the month at 8:30 a.m. and become available as a podcast the following Monday.
The hosts said considering the institution's deep pool of graduates – almost 103,000 – and long history of distinguished alumni, there's no shortage of potential guests to interview and plenty of reasons to tune in.
"The number one reason is to hear about all the cool things alumni are doing," Kanady said. "Anyone who has been to Rowan can identify at some point in the conversation where they see their own story in the stories being told."
"It's also just a fun way to reminisce, a lighthearted walk down memory lane," Lightfoot said.
For decades, WGLS has provided an outlet and experience to class after class of students, many of whom loved it so much that they pursued radio careers. Having won virtually every award available to college radio stations, a total of 356 national and regional awards since 1993, it was named "Best Four-Year Radio Station of the Year" in October by the College Media Association.
Jones said "Beyond the Brown & Gold" fits well with the station's mixed format, which includes music, news, live sports, documentary and podcast programming.
"Not only does the show dig into how alumni achieved success in their fields, it shows how they relate to their time on-campus," Jones said. "As former students themselves, Jessica and Rob appreciate other alumni experiences and that makes for a fun show."