On the air: WGLS-FM named Best College Station of the Year
On the air: WGLS-FM named Best College Station of the Year
On the air: WGLS-FM named Best College Station of the Year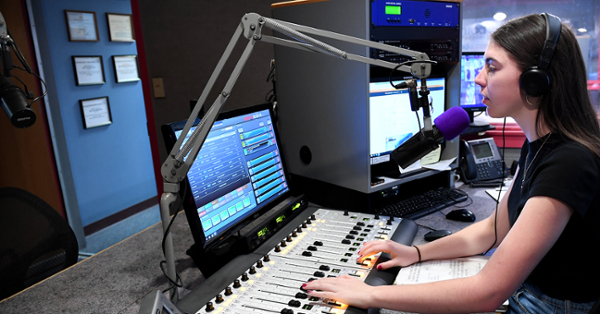 In between artists – Cheap Trick, Simple Minds, the Doobie Brothers – junior Elena Laughton calmly dons a headset, touches a button and speaks into the mike.
The break goes fast, just sixty seconds or so, but it's long enough to deliver a lot of information, from campus happenings to Wellness Center programming to the "WGLS-FM Target Weather Forecast."
Laughton, a journalism and communication studies double major from Westwood, said she was drawn several hours south to attend Rowan University for exactly this type of experience.
"There's always something going on, something to get involved with," she said. "As a journalism major, I wanted to try the broadcast side. We have an active news department with a minute every hour of Rowan news. This is a unique, hands-on experience and I'll have lots of stuff from it that I can show an employer when I graduate."
In fact, the "News Minute" is just the start of the station's programming, which since 1993 has generated more than 350 regional and national awards for music, documentaries, podcasting and news. On Election Day, the station provided five full hours of live coverage.
Best in the U.S.!
That type of programming led to Rowan Radio 89.7 WGLS-FM this fall landing one of the biggest accolades in college radio as it was named "Best Four-Year Radio Station of the Year" by the College Media Association.
Honored at the organization's annual Pinnacle Awards Oct. 27 in Washington, D.C., the award was the second time WGLS-FM earned the title of best in the U.S., the first coming in 1997 from the National Association of College Broadcasters.
 "Every day we see how hard our students work. When that hard work is recognized like this, nationally, it's very rewarding," said Station Manager Derek Jones.
Jones and Assistant Station Manager Leo Kirschner require aspiring broadcasters to complete a full semester of training before they can go live and, during that time, they learn a lot.
"There's eight weeks of training including a textbook to study, a test to pass, and a schedule that covers performance, format, FCC rules, the Emergency Alert System and a lot more," Kirschner said.
He and Jones said they run WGLS like a professional broadcasting operation in which playlists must be followed, news delivered and sponsored messages read – on time, every time.
"People think college radio is a free for all and kids just do what they want, but they can't," Jones said. "There's creativity, but it's guided. We run it like a business because, out in the field, this is what they're going to find."
Building careers since 1964
Founded nearly 60 years ago, the station has drawn generations of aspiring broadcasters, some of whom, like Angela Mason at WOGL-FM in Philadelphia, Victor Sosa with iHeartMedia, and John Sadak, now the play-by-play announcer for the Cincinnati Reds, carried the broadcast dream from Rowan Radio to the top of the industry.
In addition to news, weather, documentaries and music, the station covers Rowan University sports and airs live Wilmington Blue Rocks baseball and Wilmington Blue Coats basketball to provide yet another layer of student broadcast experience.
Victoria Baker, a senior Radio, Television & Film (RTF) major from Jackson who serves as WGLS operations manager, said part of the draw of radio is its relative anonymity while one entertains and informs.
"I think it's more personal than staring at a camera," said Baker, who broadcasts three out of five daily morning shows during the 7 a.m. to 9 a.m. drive time slot with on-air partners Dante DiValerio, Megan Steckler and Nick Iadonisi.
Iadonisi, who's also a senior RTF major, said his role at the station evolved in just one year from trainee to DJ to digital media director, work he hopes to pursue as a career.
"Most companies need an online presence and for me to manage the social media accounts of Rowan Radio has been a great training ground," said Iadonisi, of Washington Township. "I use social media to let people know we're here. I help our listeners and people who follow us know we do good work."
https://today.rowan.edu/news/2022/11/on-the-air-wgls-fm-named-best-college-station-of-the-year.html