Rowan Radio 89.7 WGLS-FM named Best Four-Year Radio Station of the Year
Rowan Radio 89.7 WGLS-FM named Best Four-Year Radio Station of the Year
Rowan Radio 89.7 WGLS-FM named Best Four-Year Radio Station of the Year
Rowan Today, October 28, 2022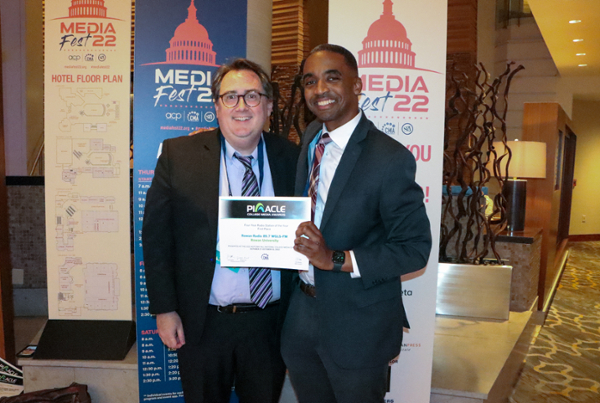 Assistant Station Manager Leo Kirschner and Station Manager Derek Jones at the Pinnacle Awards
College Media Association named Rowan Radio 89.7 WGLS-FM "Best Four-Year Radio Station of the Year" Oct. 27 at the organization's annual Pinnacle Awards in Washington, D.C.
WGLS-FM's top finish marks the first Four-Year Radio Station of the Year honor for Rowan Radio at the Pinnacle Awards, a competition that included finalists from Oregon State University, University of South Carolina, Marshall University and North Carolina State University. Previously, WGLS-FM was a finalist in 2013 and 2017.
"This award is a salute to our students and our entire staff," said WGLS-FM Station Manager Derek Jones. "They proudly represent Rowan University and Rowan Radio. It is very exciting for our student staff to be recognized on a national stage for their dedication and hard work."
Rowan Radio last achieved Station of the Year honors in 1997 from the National Association of College Broadcasters.
This is the second national accolade for the station just this year. In July, the National Association of Broadcasters named Rowan Radio a finalist in the Marconi Awards for Best College Radio Station.
Presented by College Media Association, the annual Pinnacle Awards salute the best in college media during the organization's convention and this year's competition netted nearly 3,000 nationwide entries.
Rowan Radio 89.7 WGLS-FM has won more than 350 regional and national awards since 1993.