Rowan broadcasters getting professional opportunities with the Blue Rocks
Rowan broadcasters getting professional opportunities with the Blue Rocks
Rowan broadcasters getting professional opportunities with the Blue Rocks
By Sean Greene WDEL 1150AM/101.7FM Delaware's News Radio, June 19, 2021
"It's a beautiful day for baseball in the ballpark."
Those are some of the words that will greet listeners of Wilmington Blue Rocks home games this season.
Since their rebirth in 1993, Wilmington Blue Rocks games have been broadcast by commercial radio stations, but this year, it's Rowan University students stepping behind the mic.
On a recent night, the broadcast team consisted of Kayla Santiago (who voiced the initial words) and Paul Stainker on their college radio station WGLS-FM.
The deal was put in place with the help of Philadelphia broadcasting veteran Neil Hartman, who is now the Director of the Center for Sports Communication and Social Impact at Rowan University.
"For these guys to do professional sports, are you kidding me? Our students appreciate it. They work very hard, and it's great to reward them with an immense opportunity like this."
Stainker said when the word about tryouts came out earlier this year, he was ready to take a shot to get on the call.
"They said it was an audition, I said this is what I want to do forever, I have to at least throw my hat in the ring."
Rowan's broadcasting program recently reached the majors, when Class of 2000 member John Sadak, whose career started with the Wilmington Blue Rocks and University of Delaware Women's Basketball, was hired as the television voice of the Cincinnati Reds. He's also called NFL and Army/Navy games for Westwood One radio, including some aired on WDEL.
It's a place Santiago said she'd like to reach one day and help break what has been a glass ceiling for many women in sports broadcasting.
"Usually you see young women on the sidelines, you don't see them in the booth. I want to show people that it is possible. I love it more than anything in the world, and I know that I'm going to work hard and learn everything I can to get to that level."
In addition to their agreement with the Blue Rocks, Rowan has also partnered with the Delaware Blue Coats. That's all in addition to a robust schedule covering Profs programs, some of which are at the top of Division III athletics.
Stainker said it's great experience, and also something he can brag about as he continues to work through college.
"We get bridge money and some food money. so I tell people I get paid, I do professional games for the radio and I get paid for it."
You can listen to Rowan students broadcast home Blue Rocks games on 89.7 FM WGLS.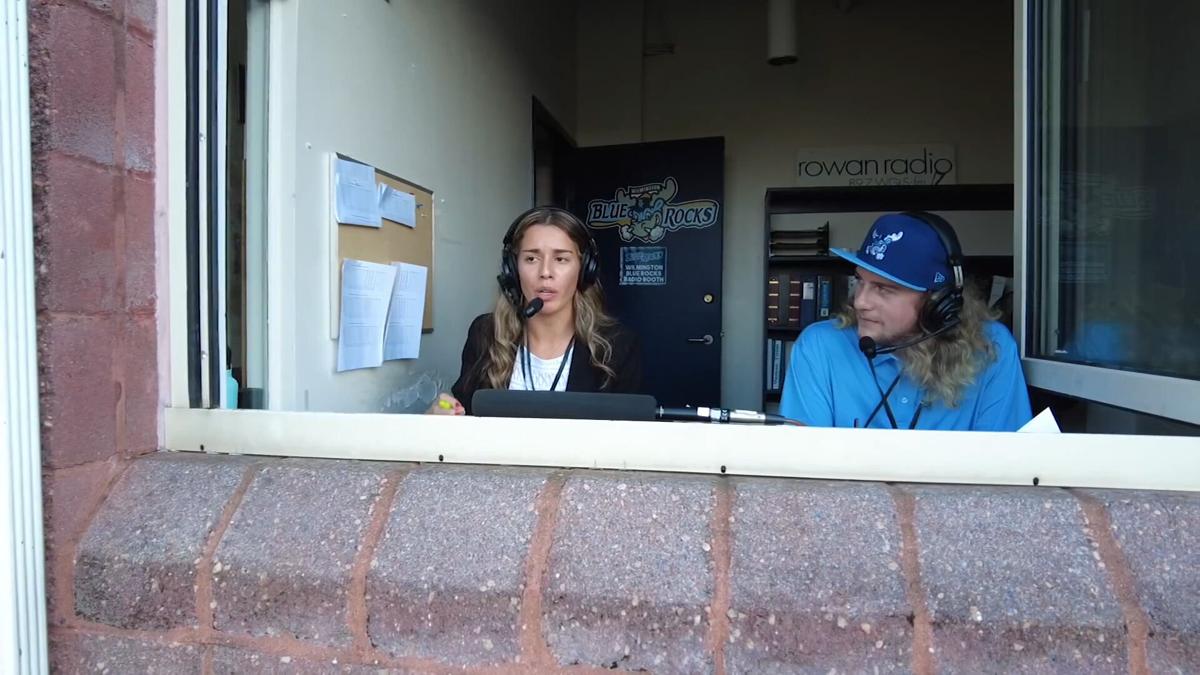 Courtesy of NBC Philadelphia
https://www.wdel.com/news/rowan-broadcasters-getting-professional-opportunities-with-the-blue-rocks/article_03c7dd52-d0bf-11eb-80b1-f7280623dc37.html