Going pro: Students call NBA G league championship game on WGLS
Going pro: Students call NBA G league championship game on WGLS
Going pro: Students call NBA G league championship game on WGLS
Rowan Today, March 19, 2021
Following a long year without play, collegiate athletics is back at Rowan University as Profs take to baseball and softball diamonds, fields and tracks this spring.

But for sports lovers who can't see their beloved teams in person, some of the best action is off the field and on the air, where student broadcasters provide play-by-play and color analysis for Rowan and professional games alike.

On March 11, juniors Kayla Santiago and Lloyd Wilson called the championship game for the Delaware Blue Coats, the 76ers G League affiliate, in a matchup with Florida's Lakeland Magic from the WGLS-FM studio in Glassboro.

The Coats fell 97-78 in the team's first championship appearance but Santiago and Wilson, reporting and analyzing what they saw live on a muted TV in Bozorth Hall, won big, gaining the type of experience they'll need to launch the career of their dreams.

"I've done many games since my freshman year and there are always nerves," said Santiago, a double major in Sports Communication & Media (SportsCAM ) and Journalism. "But I never broadcasted from a TV screen before. I always get a little nervous but once the mic opens up, I'm at home."

In November, Rowan and the Blue Coats announced the launch of the Blue Coats Broadcast Academy powered by Rowan Radio, a partnership that enables Rowan students to audition for Blue Coats play-by-play, color analyst and other roles and to broadcast games over WGLS.

Santiago said despite the shortened 15-game season due to the pandemic (a normal season is about 50), students gained the type of experience they can't get anywhere else.

"I'm the type of person who needs to do something I love, and this is it," she said.

A former intern for Merrill "The Voice of the Eagles" Reese, Santiago said she practically breathes sports and has called games for virtually every team Rowan fields. Like the famously prepared Reese, Santiago said her prep work for a game begins the moment one broadcast ends and can run right through her next, typically a few days later.

That prep involves an immersion in stats, stories and personal histories of every player on both rosters so she can fill her broadcasts with anecdotes, figures and miscellanea to keep fans engaged even during slow spots or blowouts.

"You might work 15-hour days, but I love it," she said.

Wilson said students alternate in play-by-play and color analyst roles from game to game and that all of them try to make their broadcasts personal. In providing color analysis, as he did for the final Blue Coats game, Wilson draws on his own experience to describe the action and give listeners a deeper appreciation of the play.

"For play by play you're describing the action but also giving context," said Wilson, who is also a SportsCAM and Journalism double major. "With color analysis, the job is to paint a picture. How were they able to score? Was it a pick and roll or a pick and pop? Did he cut through the lane? You need to be descriptive and you need to be clear."

Originally from Rochester, N.Y., Wilson had some broadcasting experience from high school and the County College of Morris, which he attended before transferring to Rowan, but he said the curriculum, facilities and mentoring he's found in Glassboro enabled him to dive deep.

"On Saturday when the game is over I'll start looking at the next game on Wednesday, getting names, schools, heights, weights, averages, all of it. I'm spending over ten hours, maybe 20, in the commitment to it," he said.

Santiago and Wilson believe their passion for sport married with a degree in sports communication and quickly building experience is preparing them well for a career in the field.

"I want to be a play-by-play broadcaster or sideline reporter," Santiago said. "In this industry you won't most likely be in the same job for 40 years, and that's fine with me."

"My ultimate goal is to one day call a New York Knicks game," Wilson said. "To get there I know there will be a whole lot of grind work but at the end of the day I truly love broadcasting. You practice throughout the week and on game day let everything fly."

Neil Hartman, an Emmy Award-winning former Philadelphia sportscaster and director of the Center for Sports Communication & Social Impact at Rowan, said the experience students like Santiago and Wilson get calling professional sporting events will be invaluable as they pursue careers.

"The NBA G league is all about preparing players for the next level and it is the same for broadcasters," said Hartman, who teaches in the SportsCAM program and helped broker the Broadcast Academy partnership. "You can't put a value on the on-the-job training our students are receiving, not only broadcasting games but interacting with the Blue Coats staff in a number of different areas."

Honored by the National Sportscasters and Sportswriters Association as Pennsylvania's Sportscaster of the Year in 2000, the former primetime anchor for Comcast SportsNet Philadelphia said committing to prep before broadcasts is a big part of the game.

"Landing a play-by-play job takes a lot of practice," he said. "But meeting people is also significant so we emphasize the importance of networking all the time. It is not so much who you know but who knows you and it is safe to say that members of the Blue Coats and Sixers organizations know our students because of this unique partnership."

In all, Hartman said, 17 Rowan students interned with the Blue Coats this season as play-by-play and color analysts, studio producers/hosts, writers for the team's website, and in the front office in public relations, marketing, and sales and sponsorship.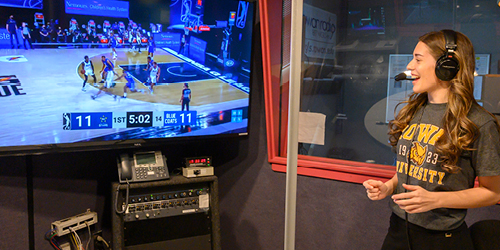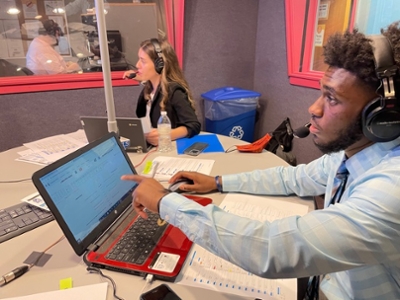 https://today.rowan.edu/news/2021/03/going-pro-students-call-nba-g-league-championship-game-on-wgls.html