Alumnus John Sadak named play-by-play announcer for the Cincinnati Reds
Alumnus John Sadak named play-by-play announcer for the Cincinnati Reds
Alumnus John Sadak named play-by-play announcer for the Cincinnati Reds
Rowan Today, November 11, 2021
Many greats have called Cincinnati home, from NASA's Neil Armstrong to businessman Ted Turner to William Howard Taft, the 27th President of the United States and Chief Justice of the Supreme Court.
Rowan alumnus John Sadak will soon call the city home too.
Sadak, a 2000 graduate in Radio, Television & Film who received his master's degree in Public Relations in 2003, becomes the new play-by-play announcer this spring for the Cincinnati Reds, one of the most storied teams in Major League Baseball.
But the road to the MLB did not come easy. Sadak, a veteran broadcaster who for more than 15 years called games in Scranton/Wilkes-Barre, Wilmington, and through ever bigger jobs such as the Westwood One Radio Network, CBS Sports, even the New York Mets, said the past year was brutal as all of professional sports struggled through the pandemic.
"In the heart of it I went basically eight months with no work, no income," Sadak said. "I ended up running an hour and a half, two hours a day, just to get that stress and anxiety out. I was already in my head starting to wonder where I'd find another full time role because I need and want to work another 25, 30 years, maybe more."
Sadak wrote every team in Major League Baseball and most in the NBA, working contacts, colleagues and sources for leads to a paying gig, and finally one came through.
It's a lesson, he said, that students of all majors, but especially those who seek competitive careers like broadcasting, should take to heart.
"Whatever you want to do, start doing it now," he said. "If you want to be a broadcaster, start working at RTN (the Rowan Television Network). If you want to be a writer, write for The Whit. Get that practical experience while you're there."
It's a path he followed himself. Long before landing the Reds gig (he'll technically work for the team's broadcast partner, Fox Sports Ohio), Sadak called Rowan Profs games on 89.7 WGLS-FM and said the experience he built on campus set his course for life.
"My number one experience was working on WGLS," he said. "It was literally the most fun I ever had. But beyond the broadcast, calling a ton of Rowan Profs games, I learned how to do everything."
Sadak believes his position calling Reds games could be the last job he ever holds, and he hopes it is.
He loves the history of the franchise ("they were the first professional baseball team, founded in 1869 as the Cincinnati Red Stockings"), that they've fielded some of the best and most colorful players like Johnny Bench, Dave Concepcion and Pete Rose, and that they have a very bright and winning future.
But first he needs to learn more, to fill his head with all the facts, figures and anecdotes that make great play-by-play.
"I do love the performance part of the job," he said, "but I really love the nerdy pregame research, even some of the math pieces that baseball affords."
And even as he's calling games, he'll need to be on his own.
"This is a franchise with a very large, very loyal fanbase," Sadak said, "and they top of mind know."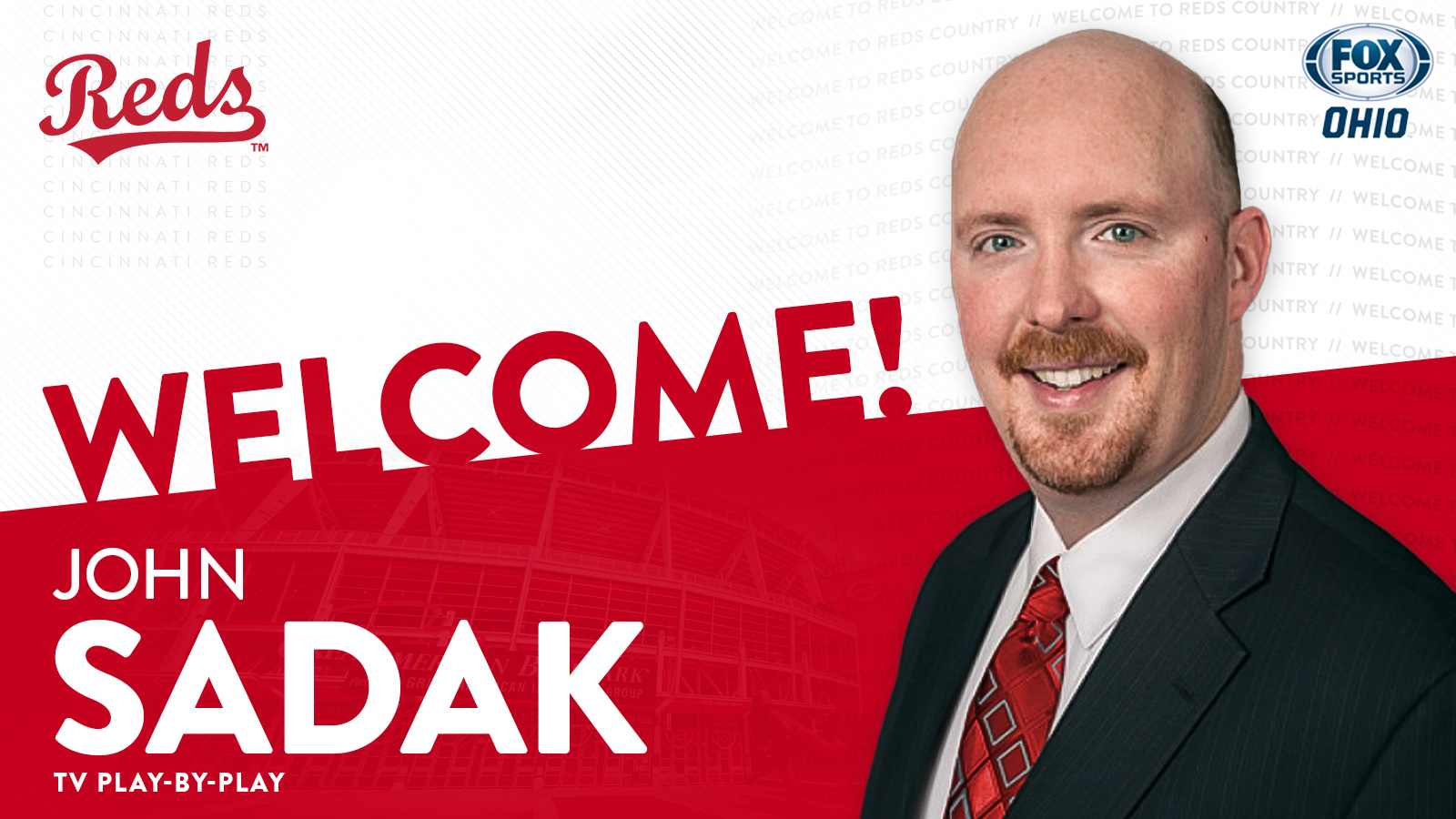 https://today.rowan.edu/news/2021/02/alumnus-john-sadak-named-play-by-play-announcer-for-the-cincinnati-reds.html