From Prof to Professional: Sue Shilling
From Prof to Professional: Sue Shilling
From Prof to Professional: Sue Shilling
Rowan Athletics, December 3, 2020
GLASSBORO, NJ - Sue Shilling '93 has had quite the career in the radio industry. From playing the latest hits to providing the sports news to sharing the stories of people with disabilities. She was even inducted into the 2015 Rowan Radio Hall of Fame. Shilling's beginnings as a Prof and student-athlete has shaped the trajectory of her radio career. 
 
From 1990 to 1993, Shilling was a member of the Rowan University softball team, playing as a reserve outfielder. During her time on the softball team, along with going to a National Championship during her senior year, she views her time as a positive experience that has influenced her life. 
 
"I wasn't what you would call a starter or didn't get in very much," says Shilling. "But the lessons that I learned as a student-athlete has helped made me a better mother, made me a better co-worker and just helped me overall in being able to be a part of something." 
 
At Rowan, Shilling also discovered her passion for radio and sports broadcasting. While she was originally undecided (now known as an Exploratory Studies major) when she came to the University,  Shilling remembers the exact moment when she realized how she can turn her love of sports into a career. 
 
"I always had a love for sports and I decided one day to try sports updates on the Rowan Radio station," says Shilling. "As soon as I did that, I just loved it. Now, it was something that I knew I wanted to do." 
 
Shilling eventually changed her major to Communications with a concentration in Radio, Television, & Film. She also became very much involved with Rowan Radio, working on Sports Updates during Rowan home games when she did not have any softball games. Shilling also had numerous mentors along the way that helped prepare her for her career, from people at Rowan Radio, such as Frank Hogan, Ned Eckhardt and Mike Shute, to her softball coaches, Kim Franchi and Dawn Bunting. Shilling's supportive parents helped her through college and to launch her career. 
 
After graduation, Shilling began her extensive and ongoing career in the radio industry. While she did some work as an on-air personality at a local radio station when she first got started, her big break came in 1999 when she got hired as a sports broadcaster for Sports Radio 94-WIP in Philadelphia. 
 
"I had been sending some demos to WIP and then I got that opportunity and I just went with it. I was very excited," says Shilling. "It was a dream to be on a sports station, to be on it in a major market. It was an experience that I'll always remember. I enjoyed every minute of it. The 20+ years flew by, but it was a great experience." 
 
While at Sports Radio 94-WIP, Shilling covered major sporting events in the Philadelphia area from 1999 to 2020. In addition, she also did some sports broadcasting work at KYW 1060AM Radio, also in Philadelphia, from 2013 to 2020. In her career, Shilling's personal favorite memory from her sports broadcasting career was being in the news room the Eagles' Super Bowl run and press conferences.  
 
"Particularly when the Eagles won the Super Bowl, I was lucky enough to be part of a station that covered it all," says Shilling. "My daughter's a huge Eagles fan and she was able to join the photo shoot and take a picture with the Eagles' Super Bowl ring." 
 
Although Shilling was laid off from Sports Radio 94-WIP and KYW 1060AM Radio as a result of the COVID-19 pandemic, she still cherishes her time from working at these stations. Nowadays, Shilling can be found working on her own radio show highlighting the lives of people with disabilities. 
 
Shilling's current project, "Everything Special Needs", is a radio talk show she has been doing since 2014 where she interviews individuals with special needs and their families. Previous recordings of "Everything Special Needs" can be found on RowanRadio.com and the show is broadcast on three local radio stations each week, including Rowan Radio on Saturday mornings from 8:00 - 8:30 a.m. 
 
For Shilling, "Everything Special Needs" was inspired by her own daughter. "Basically, having a daughter that has various special needs and with my experience in radio, I wanted to find a way where I can contribute," says Shilling. "I blended those two things together and came up with the concept of the radio show. That was something really meaningful to me."
 
Ever since "Everything Special Needs" came on the air, there has been an overwhelmingly positive response to the show. On her show, numerous resources and information for people with disabilities and their families are discussed. In addition, Shilling notes how impactful the show has been for her guests and their families. 
 
"I've met so many people and heard so many inspirational stories of people, families with special needs and for some of them, when they go on the radio show and do an interview, that's their chance to tell their story," says Shilling. "I never realized the impact that could have on an individual or a family." 
 
As a result of working on "Everything Special Needs", Shilling hopes that there would be more acceptance of people with disabilities. "You know, there's so much more than just a diagnosis and a special need," says Shilling. "That's what I learned doing this radio show and from my daughter that there's so much more to a diagnosis."
 
That being said, Shilling has quite a successful career in the radio industry. From the perspective of Derek Jones, current station manager for Rowan Radio and one of Shilling's colleagues, he thinks it's easy to see why she has had such a successful career. Along with being a natural storyteller, Jones also believes that she has a great amount of dedication to her work. 
 
"Sue is a very determined hard worker; that is somebody that multi-tasks and balances a lot of different aspects of her life effectively," says Jones. "Balancing all those different hats is not easy to do, but Sue does it so effectively." 
 
In addition, Shilling has proven to be an excellent role model for current students involved in Rowan Radio. She has provided opportunities for students to work on "Everything Special Needs" as well as serving as a mentor for them. With this, it was one of the reasons why Shilling was an excellent candidate to be inducted into the Rowan Radio Hall of Fame. 
 
"When you look at what she's been able to do throughout her life, it was a logical fit for us to put her in the Hall of Fame," says Jones. "I think what made Sue stand out was that she was successful at Rowan and she was also successful professionally as well, but also too she maintained contact with people at Rowan Radio, which is very commendable since it's not easy to do once you graduate." 
 
Ultimately, Shilling has had an inspirational career working in many different markets in the radio industry. Along with having hard work and motivation to succeed in the radio industry, she also has this advice for students interested in pursuing a career in radio. 
 
"Keep an open mind because what the field was when I was in college to what it is now is a little different in that we didn't have social media and other things back then," says Shilling. "Realize that there's lots of avenues you could go in, like we didn't have an opportunity to do podcasts back then, so keep an open mind and look at the different avenues you can do."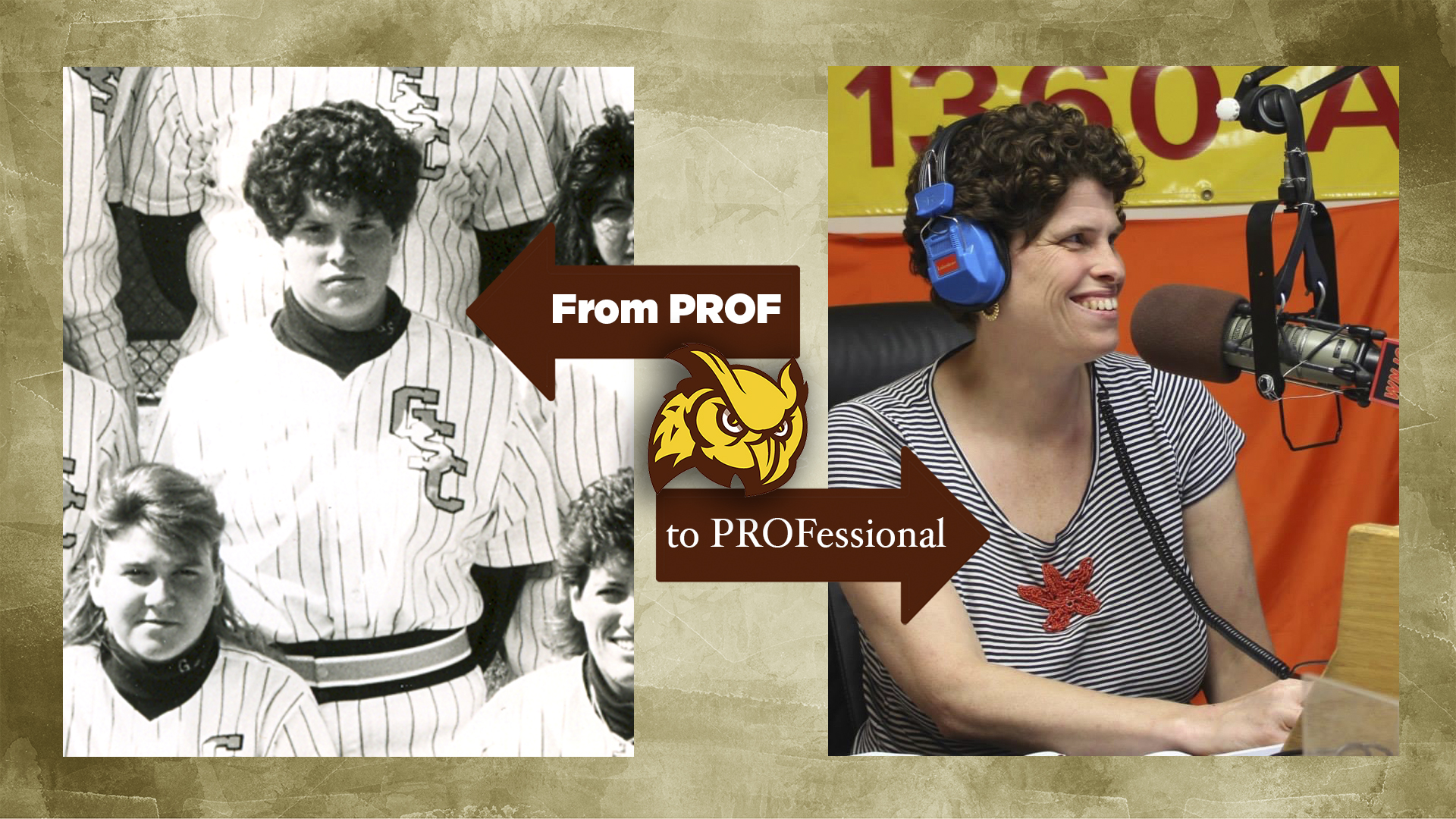 Courtesy of Rowan Athletics.
https://www.rowanathletics.com/news/2020/12/3/softball-from-prof-to-professional-sue-shilling.aspx