Journalism Student Paves the Way as First Female to Commentate a Rowan Football Game on Radio
Journalism Student Paves the Way as First Female to Commentate a Rowan Football Game on Radio
Journalism Student Paves the Way as First Female to Commentate a Rowan Football Game on Radio
Student Affairs Blog, February 24, 2020
Story and photography by Nicole Cier, senior writing arts major
When Katie Francis, a junior Sports Communication & Media and Journalism double major from Swedesboro, NJ (Gloucester County), discovered the campus radio station her sophomore year, she "knew it was a good path to take." An email in her student inbox with the subject line, "Are you Rowan's new voice in Radio?" inspired her to take a leap into an area of journalism she had never considered before. "I knew that, being a transfer student, it might be difficult to meet people. So I signed up for training sessions for Rowan Radio," she says.
Katie's family had introduced her to Philadelphia sports early, and she grew up watching the Flyers, but her interest in football picked up as the Eagles made their way toward the playoffs two years ago. "I started to think that I should really learn [football] so I could enjoy it more and fully understand what I was watching," she recalls. She began to actively follow the games with her dad, learning more and more with each game.

Fast forward to one year later, and Katie is the assistant news director at Rowan Radio 89.7 WGLS-FM, and the first female broadcaster on Rowan Radio to cover a Rowan football game in the school's history!

In November, Gary Erdelyi, the sports director, shared with her that there was an opportunity to cover a Rowan vs. Christopher Newport University football game in Virginia. With 10 years of experience playing soccer, Katie had done color commentating on two soccer games before, but football was a whole different game — literally. Derek Jones, the station manager and Katie's sports broadcasting professor, provided the support she needed to succeed at this opportunity. Jones is a mentor and role model for Katie, having first trained her at the radio station and guided her through multiple classes at Rowan, so "from the beginning" she felt "comfortable asking questions as I learned the ropes of broadcasting."
"I said, 'if you need somebody to do this, I will step up and figure it out,'" Katie reflects. "At first I was nervous, not sure if I was saying the right things, but the people that I had supporting me were really helpful. They validated me and made me feel like part of a good team there."

She didn't realize it at the time, but bravely stepping up and covering the game, despite her doubts, put her in a record-setting position. As the first female at the university to cover a football game, she is paving the way for other women in sports communications and journalism to follow her lead.

Katie is the only woman in both her Sports Broadcasting and Sports Journalism II classes, a field predominantly composed of male students.
"There was never a time where I felt like I wasn't included, whether in my classes or at the radio station, and I'm thankful for that," she says. "Being a part of a team of people who are as passionate about something as I am, and being able to meet people through it is a really great experience. It can be weird at times, looking around and being the only girl in a room, but with every experience I've had, I've always felt like everybody was rooting for me."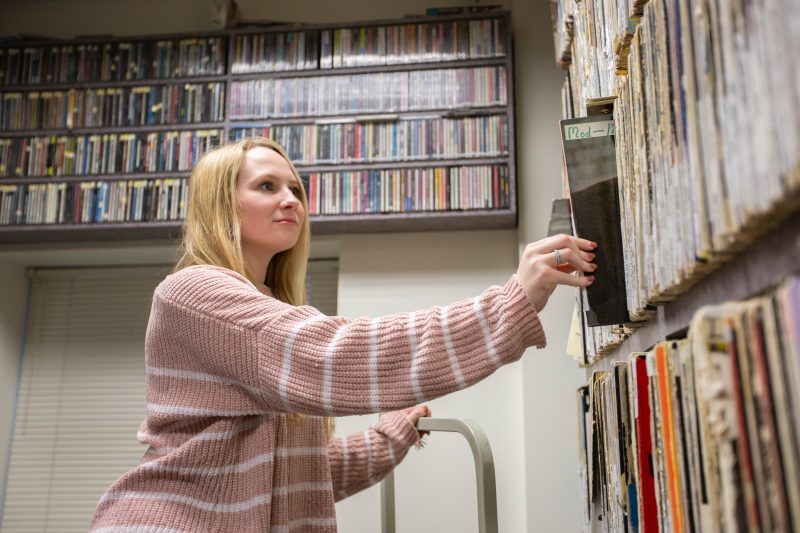 Katie picks out a record for the daytime music show she hosts.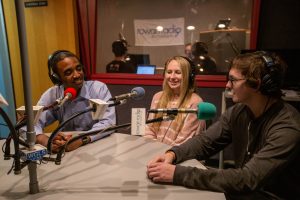 Katie with Rowan Radio station manager Derek Jones and sports director Gary Erdelyi.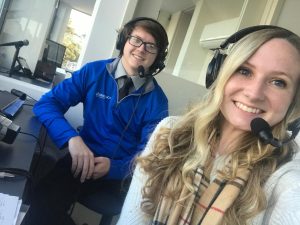 Katie with her co-host and classmate, Gary Erdelyi, on game day!
https://www.rowanblog.com/2020/02/24/journalism-student-paves-the-way-as-first-female-to-commentate-a-rowan-football-game/