RowanGIVES: Record-setting day celebrates Rowan giving
RowanGIVES: Record-setting day celebrates Rowan giving
RowanGIVES: Record-setting day celebrates Rowan giving
NJ.com, March 15, 2016
GLASSBORO — The Rowan University community made history March 3 during the institution's second annual 24-hour day of giving, raising $86,895 from a record 1,240 donors.
The support of Rowan alumni, students, parents, friends, faculty and staff for a variety of organizations and initiatives across the university will provide countless opportunities for student success.
The event had an initial goal of 500 donors, which, once met, would unlock a challenge gift of $15,000 made by businessman and philanthropist Robert Carr.
Inspired by the success of last year's day of giving, Carr, who in June pledged $1 million to support student scholarships at Rowan through his Give Something Back Foundation, made the challenge gift to encourage people to give to causes that are close to them.
Motivated by the early generosity displayed on campus and online, Rowan President Ali Houshmand made a $6,000 challenge gift at 11 a.m. The Rowan University Foundation Board then pledged an additional $5,000 in late afternoon if at least 800 donors came forward by midnight.
By 2 p.m. the original goal of 500 gifts was met, by 7 p.m. more than 800 donors had committed their support and, when #RowanGIVES Day 2016 ended at midnight, a total of 1,240 donors had given back, more than doubling the original goal.
The $26,000 in total challenge gifts will be split among the top eight designations that received the most individual gifts. They were: CMSRU Street Medicine; The Rowan Fund; SOM Annual Fund; Early Childhood Demonstration Center; Rowan EMS; Social Justice, Diversity, and Inclusion; the James S. Huff-Miller Memorial Scholarship and Rowan Unified Sports.
Building on this spirit of philanthropy, a student service showcase and volunteer fair, held in the Student Center Pit from 11 a.m. to 3 p.m. on March 3, encouraged students to donate time for a variety of non-profit organizations.
Event organizers sought to top last year's #RowanGives Day in which 450 donors committed $63,629 for groups and organizations across the university.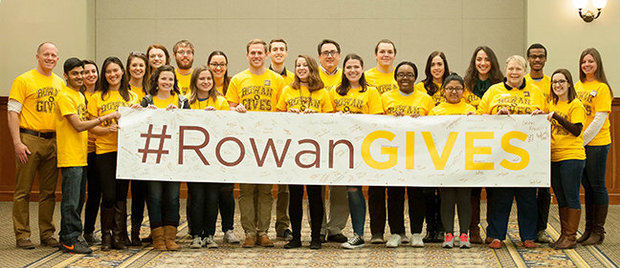 Students and staff in gold "Rowan Gives" T-shirts showed their Rowan Pride across campus while Rowan Radio 89.7 WGLS-FM broadcast live from the Student Center, where a live digital ticker tracked donor figures in real time. (COURTESY PHOTO)