Forty years on, still a Pepper
Forty years on, still a Pepper
Forty years on, still a Pepper
Rowan Today
March 12, 2008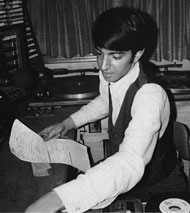 Rowan's changed a lot the past 40 years but one thing's remained an ever-lovin' constant - Sammy "Pepper" Bonavita on WGLS and his passion for everything Beatles.

The founding host of Rowan Radio's long-running Saturday morning Beatles Brunch Club, "Sgt. Sammy Pepper" took his moniker from the group's Sgt. Pepper's Lonely Hearts Club Band album.

He's since dropped "Sgt." from his on-air alias but Pepper remains a full-blown, card-carrying Beatles devotee just as he's been since the onslaught of the British Invasion in the early 60s. In fact, he first took to the WGLS airwaves September 26, 1969, the same day the Fab Four released Abbey Road, and has been spinning Beatles wax ever since.

"I went on the air and played it start to finish that same evening," he said.

Pepper, whose show airs Saturdays from 10 a.m. to noon, preps fastidiously to keep the program fresh, taping it Thursday evenings in the 'GLS studios on campus. He relates current events, TV shows, movies and music to the Beatles works that inspired them and brings a stack of his own 45s to spin every week.

"I just love the sound of music on vinyl," said Pepper, 57, of Mt. Ephraim. "It's got this warm, rich sound that you just don't get on CD. About half the show is still on vinyl, the rest on CD."

While Pepper's play list is still, four decades in, decidedly heavy on the band itself, he keeps it interesting with songs, groups, skits, even vintage radio ads related to Ringo, John, Paul and George. He spins tunes off solo projects by the lads, artists they've influenced, even contemporaries like the Rolling Stones and The Monkees.

"I do a thing I call Six Degrees of the Beatles," he said. "I might play the Traveling Wilburys because they had George Harrison but then I might play Roy Orbison or Tom Petty because they were in there too."

Still, he does not try to create a "modern" show simply for the sake of appealing to younger, ever-changing listeners.

"I try to give the audience the sensation of what it was like to listen from January 1964 to the spring of 1970 when the Beatles broke up," he said. "For me the mission is to recreate the excitement and entertainment of AM radio during the British Invasion. The DJs were just as important as the music."
To 'GLS and back again

Pepper, who was a freshman at Glassboro State College when he first went on-air here, was drafted into the military during the Vietnam War and served stateside in the Air Force. His 'GLS training helped him land a gig in the military in which he did news, sports and interview programs for Air Force Radio in Colorado.

Following his Air Force stint he returned to southern New Jersey and WGLS where he's been writing, producing and performing the Beatles Brunch Club since 1997. And the listeners still eat it up.

"I'm always thrilled when I get a call from over-the-air listeners but what's amazing is the Internet audience," he said. "I get emails from all over the world - England, Australia, the Far East. People love this stuff."

The Big 4-0

Pepper, who will celebrate four decades on WGLS in 2009, believes that Beatles music, in the tradition of other classics, will live forever.

Well aware that the music will outlast even him, he records every show to pass on to his children and grandchildren. And even if they never hear the tapes, the Beatles will always be part of them - Pepper's son, Steve, has the middle name Maclen (for McCartney-Lennon).

"That was a compromise," Pepper confided. "I wanted to name him John Paul George Ringo Bonavita but my wife wouldn't have it."

Syndication Syncopation

Pepper would love to see his show in syndication, knows it's good enough, but doesn't delude himself about the odds.

"Just about every major market in the country has some kind of Beatles show," he said. "The great thing is, it's not just the people over 40 who love the Beatles. There's a wide demographic, anywhere from 15 to 80."

Still, if there are any listeners out there in a position to launch the next great national radio program, Pepper said he's all ears too.

He has yet to meet any of the Beatles - John Lennon was slain outside his New York City apartment building Dec. 8, 1980 and George Harrison died of cancer Nov. 29, 2001 - but he still hopes to.

In honor of his four decades on the radio, Pepper hopes to interview Paul and Ringo plus Lennon's widow, Yoko Ono, and air the interview September 26, 2009, exactly 40 years to the day since he first played Abbey Road.

"I know it's a long shot but that's my goal," he said. "Somewhere between now and the 40th Anniversary show, that is definitely my goal."