WGLS voice is 'Best College On-Air Personality'
WGLS voice is 'Best College On-Air Personality'
WGLS voice is 'Best College On-Air Personality'
The Whit
Thomas Baker
12/14/06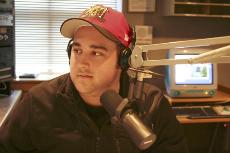 Whether it's working games or interviewing coaches, Jim Vassallo enjoys what he's doing - broadcasting at Rowan University's award-winning radio station, 89.7 WGLS-FM - and loves the recognition for his work. Vassallo spends about 30 to 40 hours a week in the radio station, and his hours of dedication were recognized, earning him the title "Best College On-Air Personality" in Philadelphia.

This is the second time in two years that Vassallo has received an Achievement In Radio award, which is presented by the March of Dimes, a nonprofit organization. Last year, as a sophomore, Vassallo received the award for "Best Sports Reporter" and was a finalist in the same category."I like the way the award has Rowan Radio above my name," Vassallo said. "It's more of a radio station accomplishment rather then my own because of the help of Mr. Hogan and Derek Jones through the years." Vasallo's grandfather always told him, "If you find a job in your life that [you] love, you'll never work a day in you life."

The young radio broadcaster believes his grandfather's words, and there's no other place he'd rather be than behind the microphone. Vassallo, the assistant sports director at WGLS and a Marlton resident, hosts his own show, called "The Jim Vassallo Daytime Show," which airs on Tuesdays from 3 to 5 p.m. Ever since his freshman year, he has worked in the radio station gaining valuable experience. "Derek let me know that when you're on the air, show your true personality and don't be someone you're not," Vassallo said. "Even if the person has never seen you, they can tell whether or not that's your true personality."

An all-around sports buff at heart, Vassallo has a special affection for baseball. He looks up to and admires not only his grandfather, who provides him with quality advice, but Philadelphia Phillies broadcaster Harry Kalas. According to Vassallo, Kalas has an easy-going sound along with his mellow baritone voice which rises during great excitement upon great plays on the field or Phillies home runs, especially in important situations.

With admiration of such great announcers such as Kalas, Vassallo has his own inner drive for success that he believes comes from the way he was raised. His parents always reminded him that whatever the outcome, you should be happy with yourself. In addition to becoming a broadcaster, he would like to follow in the footsteps of Kalas and work in baseball - any aspect of baseball. Vassallo loves the sport so much that he is willing to start at the high school level, then work his way up to college baseball and even maybe up to the pros.With big dreams of becoming a baseball announcer, Vassallo has up-and-coming opportunities that he's striving for. "Right now, Mr. Hogan is trying to get me an internship with Phillies and 610WIP," he said.

Although they don't know Vassallo's next step, his supporters can see him replacing Kalas. One thing they know for sure is that he pours his love into his broadcasting.