Radio documentary takes first
Radio documentary takes first
Radio documentary takes first
By ANNA NGUYEN
Courier-Post Staff
November 15, 2006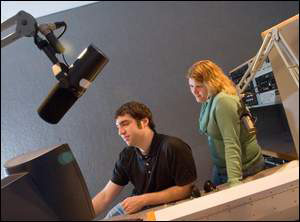 A documentary that revisits the golden era of Philadelphia radio in the 1960s recently earned Rowan Radio top honors in a national student competition sponsored by College Broadcasters Inc.

"Changing Stations: The Evolution of Philadelphia AM Radio," produced by Andy Goldstein and Erica Guidetti, won first place for best feature documentary. It also received a Philadelphia March of Dimes Achievement in Radio award for the Best College Radio Documentary earlier this month.

The documentary focuses on the 1966 radio rivalry between WIBG and WFIL, widely considered a pure head-to-head battle of two top-40 stations. It also looks at "middle-of-the-road" stations WIP and WPEN. Lastly, the documentary looks at the emergence of WCAU-FM and FM radio in the Philadelphia market. The stations still exist today but in different capacities, said Guidetti, a senior.

The students pursued the documentary after hearing a history of Philadelphia radio lecture from Frank Hogan, general manager of Rowan Radio 89.7 WGLS-FM, in one of his classes."I was thrilled for them. It was an exciting time in radio," said Hogan.

Hogan's colleagues honored him this month with an Achievement in Radio Milestone Award for his contributions over the past 35 years in Philadelphia radio. The Washington Township resident said he grew up a devoted fan of WIBG but eventually worked at WFIL for a decade as an engineer, on-air personality and producer. "I was there and they were trying to learn about it," said Hogan, who advised the students on the project.

Goldstein and Guidetti interviewed several prominent radio personalities for the documentary, including Bill Wright Sr. (WIBG), Dean Tyler (WIBG), Hy Lit (WIBG), Jim Nettleton (WFIL), Dick Fennessy (WFIL), Joel Denver (WFIL), Tom Moran (WIP), Bill "Wee Willy" Webber (WPEN) and Christy Springfield (WCAU-FM). "It was so hard to pick and choose what to use," Guidetti said. The students edited hours of interviews down to the 30-minute documentary, which also features the disc jockeys on the air in the '60s.

The documentary backdrop includes music from Bob Dylan, Paul Simon, Carole King and the Byrds."We tried to capture the feel back then," said Goldstein, who graduated in May. Both students said they found a deeper connection between DJs and their audiences in the 1960s compared to today. "I think the listeners back then identified with these radio personalities," Goldstein said. "They were part of the community." DJs used to hold record hops at high schools where they would play music, Guidetti said. "It just had an aura that was different back then," she added.

Hogan said loyalty to one radio station was important then. "There was a certain intimacy with a radio station. It was part of someone's life," Hogan said. "We've moved from personality radio to a more utility form of radio . . . part of which is due to corporations."

Judges from the CBI competition praised the documentary for its writing, editing and production, and focus on history.

"It's always nice to get recognized for your work. We worked really hard on it," Guidetti said.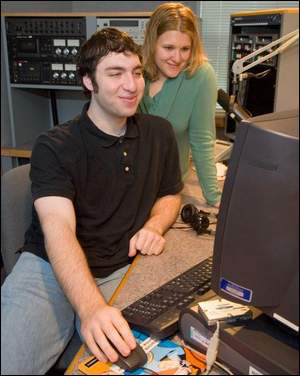 Reach Anna Nguyen at (856) 251-3345 or anguyen@courierpostonline.com