Gloucester County Freeholder Debate
Gloucester County Freeholder Debate
Gloucester County Freeholder Debate
October 18, 2005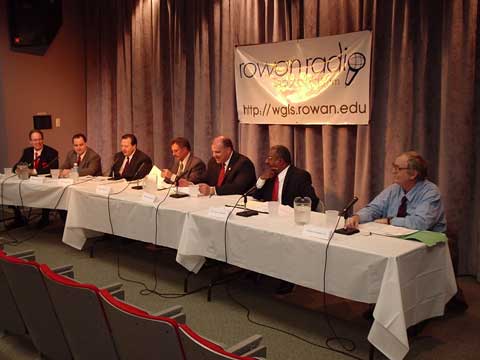 Republicans Joseph Bowe, Michael Krawitz and Phil Tartaglione, Democrats Frank DiMarco, Stephen Sweeney and Dr. Warren Wallace, Independent candidate Charles Woodrow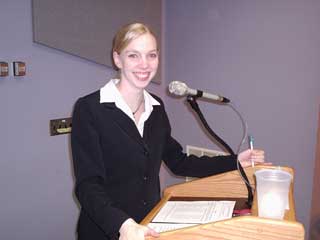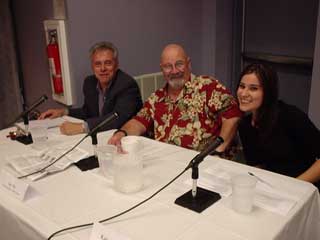 Moderator WGLS-FM News Director Kristin Davis with panelists Rowan Professor Dr. Ed Streb, Times Senior Writer/Columnist Jim Six and Rowan Student Government Association President Kalyn Spellman
Freeholder candidates attack, counterattack at Rowan debate
The Gloucester County Times
By Pete McCarthy
pmccarthy@sjnewsco.com
GLASSBORO -- The Democratic freeholder incumbents challenged their Republican opponents to offer specific plans for reforming the county during a debate aired live on Rowan Radio 89.7 WGLS-FM Tuesday night. Republican candidates Phil Tartaglione, Michael Krawitz and Joseph Bowe identified areas of what they call political patronage and misspending of taxpayer dollars. However, when asked for specific details, the Republicans failed to come up with them, Freeholder Warren Wallace said during the debate.

"I'm getting tired of the political rhetoric," Wallace said. "This county is on the move in the right direction." Wallace is running with Freeholder Director Stephen Sweeney and Freeholder Frank DiMarco in this November's election; they are opposed by the three Republicans and Green Party candidate Charles Woodrow. "It would be much better if the opposition was more informed," Sweeney said. "All we ever hear is what we do wrong. We never hear from the Republicans what they will do."

At one point, Wallace asked Krawitz for one specific plan the Republican had, to which Krawitz responded that the county needs to "trim the budget, trim jobs and trim waste." Wallace said that Krawitz failed to answer his question. "I asked for one project that will take Gloucester County forward," Wallace said. "You're dealing from an uninformed perspective." The Republican from West Deptford attacked the Democrats for giving jobs to political allies, who he said were not qualified for these posts. The county has "ample" policies in place that avoid any political conflicts, Wallace responded. "Holding two jobs is out of control," Krawitz said. "It should be one job and that's it." The first thing Krawitz said he would do -- if elected -- is "fire" Deptford Township Mayor William Bain Jr. from his post as confidential assistant in the county's Buildings and Grounds Department.

"This county is such a mess and it's because you have employees working for the townships and the county," Krawitz said. Krawitz identified two former ironworkers, who he said were hired because of Sweeney's union ties. "Is that what it's going to be, ironworkers coming in to work for the county?" Krawitz asked. "You need an auditor. If these people aren't qualified, you get rid of them. "You have men and women in positions without qualifications," Krawitz added. "How can you run a government if you don't know what you're doing?" DiMarco said he was tired of hearing the Republicans use words like "mess" and "disgrace." "If any of that was true, do you think we would have not been referred to the appropriate authorities?" Wallace asked. DiMarco, who is also running for township council in Deptford Township, said the county is in the process of proposing legislation that would forbid contributors from getting contracts at the county level.

"There is no corruption. Nobody is putting any money in our pockets," DiMarco said. "If people want to donate to a campaign, I can't stop them." Woodrow questioned the Democrats about a proposed "pay-to-play" law at the county level, wondering if it would make sure to include a conflict-of-interest component. "A freeholder would have to abstain from voting on a motion that would benefit one of his contributors," Woodrow said.

Another topic of discussion was government spending. Bowe, a retired police sergeant from Washington Township, admitted to not knowing much about the county budget, but said he can see the increases when he pays taxes. "I would check and double-check the budget," Bowe said. Something has to be done to offer relief for the taxpayers, Tartaglione said.