NJ 4th District Assembly Debate
NJ 4th District Assembly Debate
NJ 4th District Assembly Debate
October 11, 2005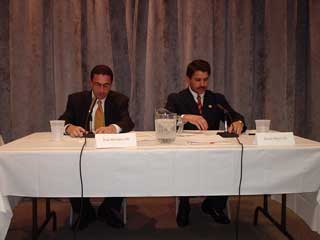 (Republicans Corey Ahart and Frank Winters, Democrats Washington Township Mayor Paul Moriarty and David Mayer, an incumbent)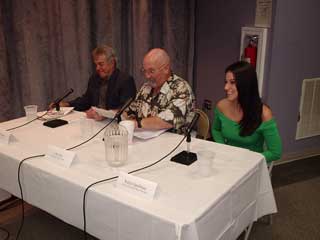 Panelists Rowan Professor Dr. Ed Streb, Times Senior Writer/Columnist Jim Six and Rowan Student Government Association President Kalyn Spellman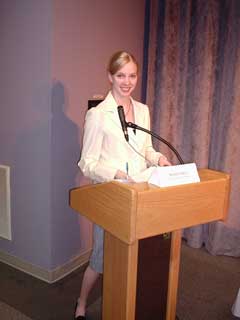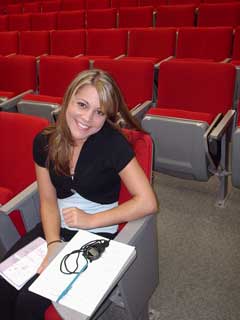 Moderator WGLS-FM News Director Kristin Davis, Timekeeper Steffanie Kochie
Taxes rule Assembly debate
The Gloucester County Times
By Martin C. Bricketto
mbricketto@sjnewsco.com
GLASSBORO -- The "crisis" of skyrocketing property taxes dominated a debate on Rowan University Radio Tuesday between candidates for Assembly in the 4th District. And the proposed solutions mirrored those this year's gubernatorial candidates have already clogged mailboxes and airwaves advocating. Republicans Corey Ahart and Frank Winters backed Doug Forrester's plan to cut property taxes by 30 percent in three years, criticizing the rebates touted by Democrats.

"The rebates that people are depending on to live in New Jersey were statutorily created and can statutorily be eliminated by will," Winters said. Democrats David Mayer, an incumbent, and Washington Township Mayor Paul Moriarty argued that Forrester's plan would turn rebates for needy property owners into tax breaks for the wealthy, and instead endorsed Sen. Jon Corzine's plan to up rebates by 40 percent.

Both the Republicans and Democrats described their tax plans as "Band-Aids" that should precede larger reforms to the property tax system. Moriarty and Mayer endorsed a Citizens Property Tax Convention, while the Republicans, as they did on other topics like ethics, health insurance and the environment, didn't venture into specifics. Indeed, Winters and Ahart portrayed themselves as political outsiders whom voters should pick for a change in Trenton.

The debate was split into three portions, with Dr. Ed Streb, a Rowan professor with the College of Communication, Times senior writer/columnist Jim Six and Rowan Student Government Association President Kalyn Spellman questioning the candidates during the first segment. The other two portions allowed candidates to question each other, and in conclusion, offer a final statement.

Several of the questions from Spellman involved higher education issues. Mayer said it was important to ensure New Jersey's job market remained strong for graduating students, while Ahart came out in support of public safety officers on Rowan's campus carrying guns. One set of fireworks occurred when Ahart asked Moriarty how he planned to balance his time between the mayor's office and state assembly.

After Moriarty said the jobs were comparable and described his current position as "a part-time job, but I work at it like a full-time job," Ahart again brought up the issue, but did not take a side. "The way he smoothed it over was, intellectually, a little bit bankrupt," Moriarty said, smiling but perturbed. A minute later, Moriarty accused Ahart of trying to "weasel his way out" of a question about how his running mate, Winters, would be able to serve as an assemblyman and police chief in Clayton.

Earlier in the debate, Winters answered questions that have arisen around his purchase of almost $2,000 in supplies for the Clayton police department in 2003 and 2004 from a business run out of his home. "If it's a mistake, I learn from my mistakes, and I consider it one," Winters said.