Rowan Radio is marking 40 years
Rowan Radio is marking 40 years
Rowan Radio is marking 40 years
By Rosalee Polk Rhodes
The Philadelphia Inquirer
March 14, 2004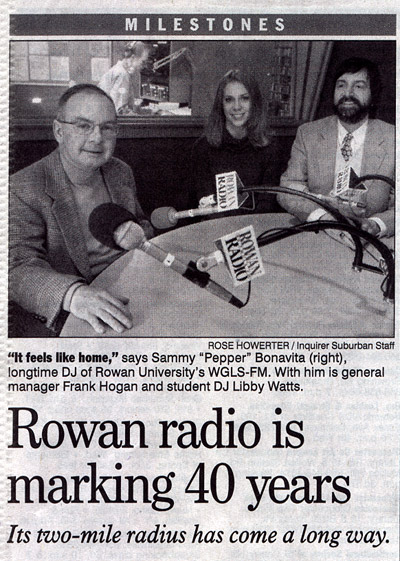 Even after nearly 35 years in radio, Sammy "Pepper" Bonavita gets pumped up when it's showtime. "I get excited getting ready for the next show. I like to look back, but I like to look forward," Bonavita said of preparing for the next show on WGLS-FM (89.7), the Rowan University radio station in Glassboro celebrating 40 years on the air.

Bonavita's career at the station began his freshman year, on Sept. 26, 1969. He had landed his first radio job in 1968 at WTMR-AM (800) in Camden. At Glassboro State College, Bonavita hosted a weekly show that featured songs by such groups as the Beatles and Steppenwolf. He had enrolled at the school to study sociology, but Bonavita's first love was radio. "My first goal was to get on the air," he said with a smile.

Soon after he landed the job, though, he did a tour of duty in the Air Force. He worked on Air Force radio and television as a newscaster. When he left the military in 1980, Bonavita returned to Glassboro to earn his college degree.

Bonavita, 53, is the longest continuous radio personality at WGLS. He now hosts the weekly Beatles Brunch Club from 10 a.m. to noon on Saturdays."There's a never ending number of songs to play," he said. In addition, Bonavita, the public-affairs officer for ARC Gloucester, is the host of a public-affairs show for the nonprofit organization that airs on the fourth Tuesday of the month.

Frank Hogan, WGLS's station manager, said the station had seen tremendous growth from a 10-watt station in a cramped administration building on campus that could broadcast to a two-mile radius to a 750-watt station in the College of Communication building with a 500-foot broadcast tower in Harrison that reaches most of southern New Jersey and into Pennsylvania and Delaware.

Station programming also can now be accessed over the Internet. Hogan, 53, whose 34-year broadcasting background includes working at several New Jersey and Philadelphia radio stations, said the Internet listenership recently hit the one-million-visitors mark. "Our focus [on the Internet] is sports. You can tune in and listen on the Internet," he said.

The station is run by three full-time staff and between 80 and 100 volunteers, including faculty and alumni. An operating budget of about $40,000 per year is received from the college and sponsorships from local companies.

Bonavita, who received a bachelor's in sociology in 1987, said that even with the many changes at the station, the place is still a good fit. "It feels like a place I need to be."