Debating New Jersey's future: Gubernatorial candidates square off at Rowan
Debating New Jersey's future: Gubernatorial candidates square off at Rowan
Debating New Jersey's future: Gubernatorial candidates square off at Rowan
Rowan Today, October 13, 2021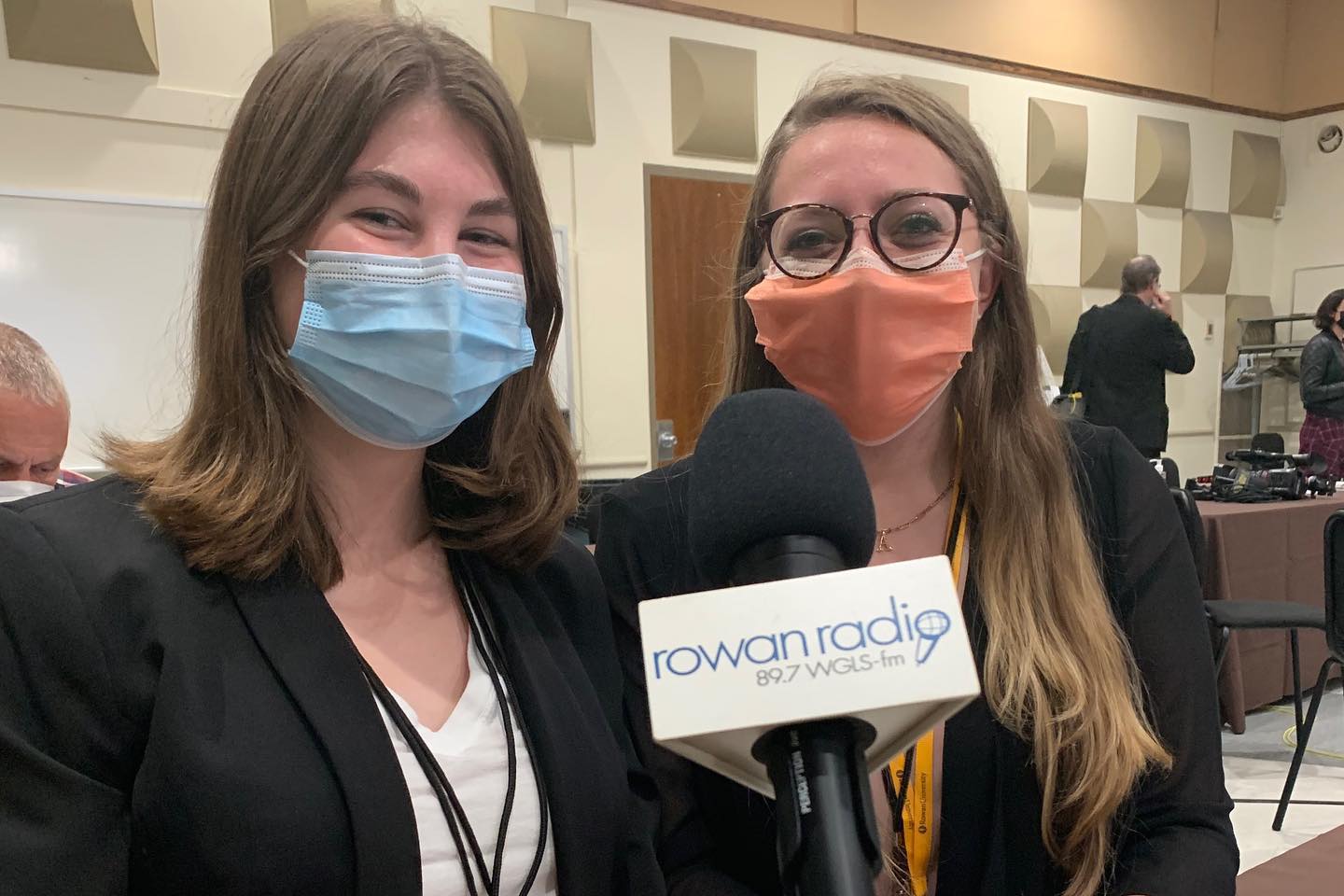 Rowan Radio's Ally Bruce and Megan Steckler cover the Second NJ Gubernatorial Debate at Rowan University.
Rowan University became the epicenter of discourse on the best ways to move New Jersey forward as the state's two gubernatorial candidates squared off during a debate on Tuesday, Oct. 12, in Pfleeger Concert Hall.
Rowan partnered with NJ PBS, New Jersey's public television network, and public radio station WNYC 93.9 FM and 820 AM to present the debate between incumbent Gov. Phil Murphy, a Democrat, and challenger and former assemblyman Jack Ciattarelli, a Republican. Full coverage is available on the NJ PBS web site. Rowan's Facebook page and Rowan Radio 89.7 WGLS-FM also provided live coverage.
For an hour before a socially distanced—and often boisterous—audience of 500, the candidates addressed a host of topics critical to the state's future, including the COVID-19 pandemic, school funding, abortion, diversity and inclusion, and climate change, among other issues.
Hosted by NJ Spotlight News anchor Briana Vannozzi, panelists for the debate included Ben Dworkin, founding director of the Rowan Institute for Public Policy & Citizenship, Michael Hill, host of WNYC's "Morning Edition," and David Cruz and Colleen O'Dea, both senior political correspondents for NJ Spotlight News. The broadcast was titled, "NJ Decides 2021: Gubernatorial Debate."
Enthusiasm for the governor's race—and for the two candidates—was in full display hours before the debate's 8 p.m. start time as supporters of both Murphy and Ciattarelli held spirited rallies outside Wilson Hall, which is home to Pfleeger Concert Hall.
Involved students
Rowan students had leadership roles in both rallies.
"The gubernatorial debate is huge," said junior political science major Michael Campagna, president of the Rowan University College Republicans. "Everyone has been talking about this. It's so important to be part of the political process and to help decide our future."
"Now, we're bringing politics right to the students," noted senior political science major Anna Bray, president of the Rowan College Democrats. "It's really exciting."
Tickets for the debate were provided through an online lottery. Students who did not secure tickets were able to join either student group for a debate watch party either in Business Hall or Robinson Hall. At both events, pizza, seemingly a bipartisan food staple, was served.
Real-world media experience
Some 40 members of the media, including reporters from Politico, the Associated Press, NBC and others, covered the debate, which also was broadcast on C-SPAN.
Rowan student media, including The Whit, the University's student newspaper, and Rowan Radio, sent multiple reporters and photographers to cover the debate. Students viewed the event in the press room alongside veteran reporters and also participated in press briefings by both candidates afterward.
"This is big news," said Rowan Radio News Director Ally Bruce, a sophomore radio/television/film major. Bruce prepared 14 questions for the candidates. As all reporters vied for their chance to question the candidates, Bruce was able to pose one of hers on vaccine accessibility in minority communities to Ciattarelli.
"It was a lot of prep," said Bruce. "Through this, I learned what is required of me when I cover politics. I'm hoping this experience is going to allow me to be even more prepared for next time."
University President Ali A. Houshmand addressed the audience before the start of the debate and expressed pride that Rowan was the debate's host. Working feverishly in concert with NJ PBS, a team of dedicated professionals worked to transform Pfleeger from a performance space to a television studio and debate space.
Houshmand said hosting the debate was an honor for the University. The event helped to bring light topics most important to New Jersey voters, he added.
Dworkin agreed, noting that debates can offer "a unique opportunity to bring both candidates together, side-by-side on a stage so that the public can make a more informed judgment.
"By forcing the candidates to acknowledge and accept each other as opponents and not enemies, debates can help protect the democratic process," he added.
Early voting sites
Election Day in New Jersey is Tuesday, Nov. 2. Two Rowan campuses will serve as early voting sites, which allow registered voters to cast their ballots in person, using a voting machine, during a nine-day period prior to Election Day.
Rowan's Main Campus in Glassboro (Room 144, Chamberlain Student Center) will be an early voting site for Gloucester County voters, while Rowan's Camden Academic Building (129 N. Broadway) will be an early voting site for Camden County residents.
Both sites will be open from Oct. 23-31. Polls are open Monday-Saturday from 10 a.m.-8 p.m. and Sunday from 10 a.m.-6 p.m.
Legislation passed earlier this year established early voting sites. Rowan is one of five sites throughout Gloucester County and one of seven sites in Camden County.